Fuck me, it's Pong.
Page 54, Game 8: Dual Pong by randomess_dj_p
In Pong you … play fucking Pong. Come on. It's Pong.
But Dual Pong re-imagines Pong as a serious competitive e-sport. How serious?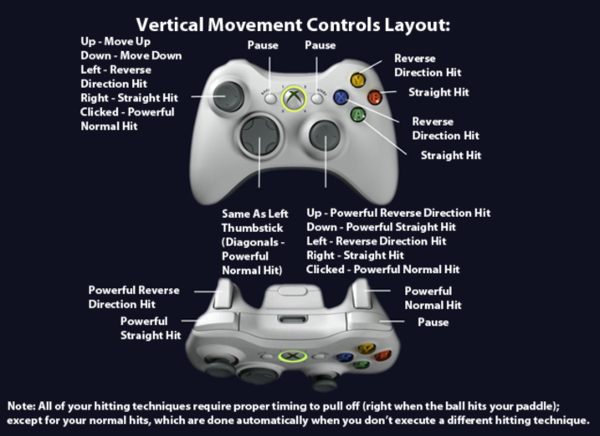 You can just let the ball bounce off of your paddle — if you're a punk. Hit the right button at the right time, and you can hit it HARD, and/or hit it straight across or reverse the direction of the ball.
Depending on where your opponent is, this can result in a ball they literally CANNOT reach. Particularly if they're chasing down the other ball.
Did I mention that the "Dual" part of Dual Pong is a reference to the two balls bouncing around the screen?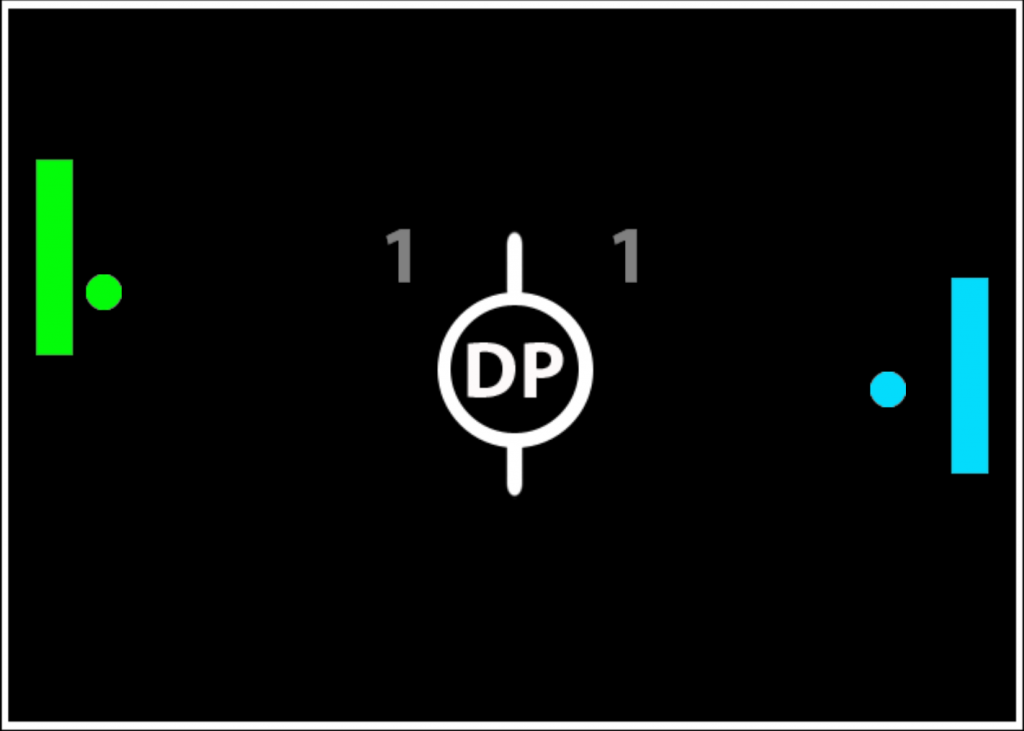 But that's not all! DOUBLES Pong, motherfucker!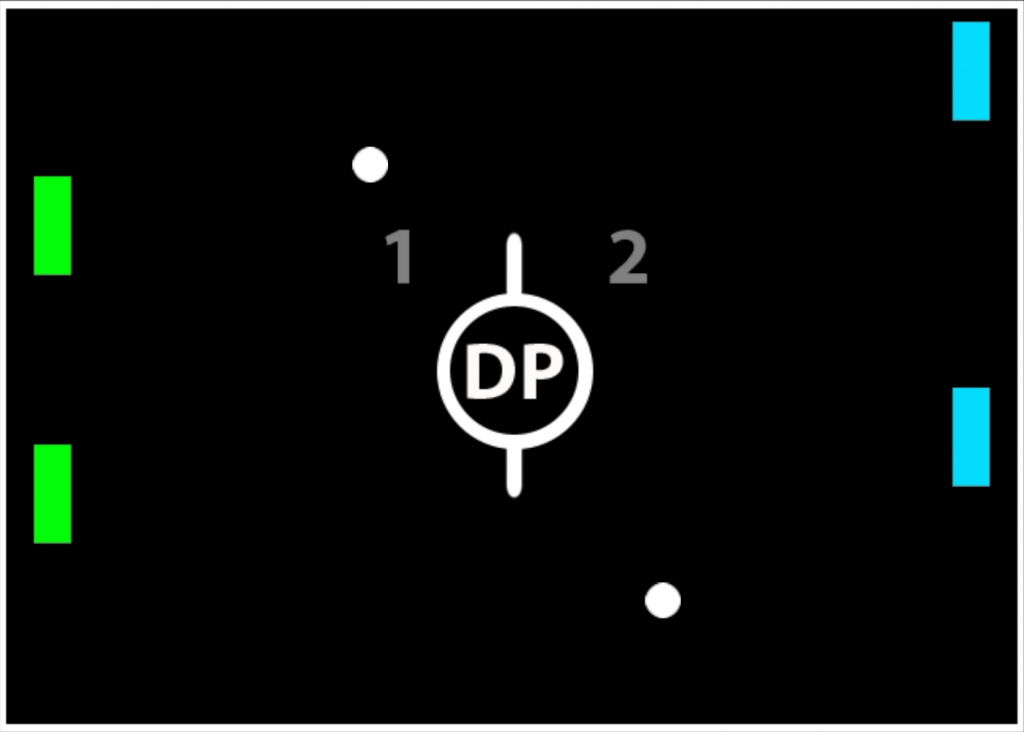 An insano-pants FOUR-WAY CLUSTERFUCK of PONG ACTION!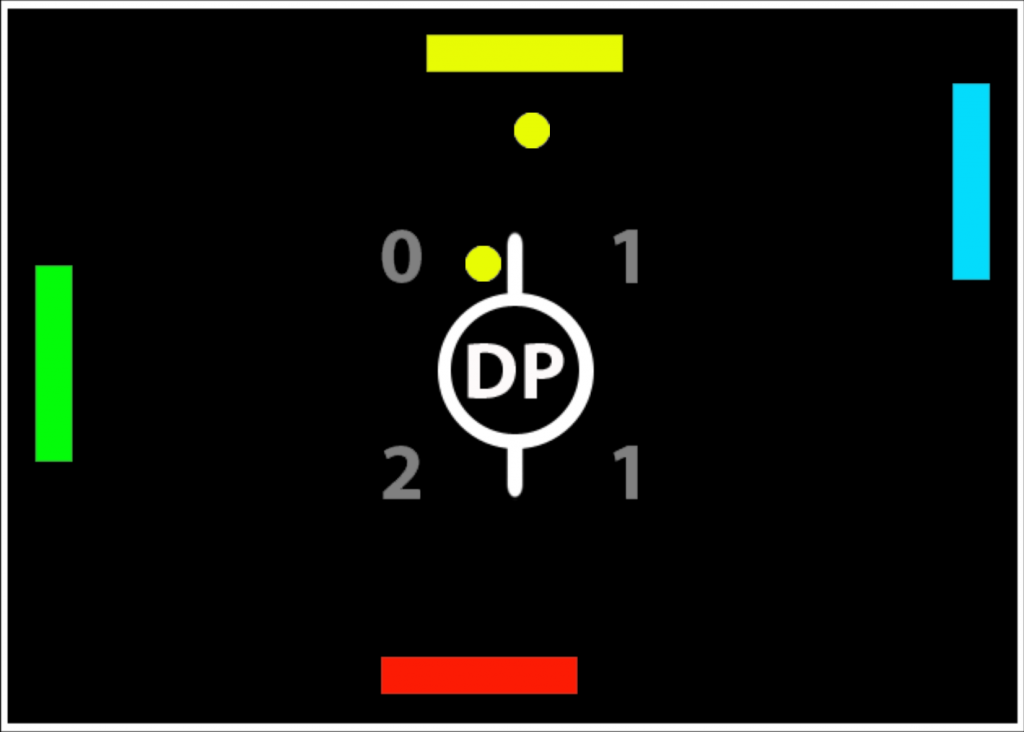 And STORY MODE! Compete for the PONG CHAMPIONSHIP YO!!!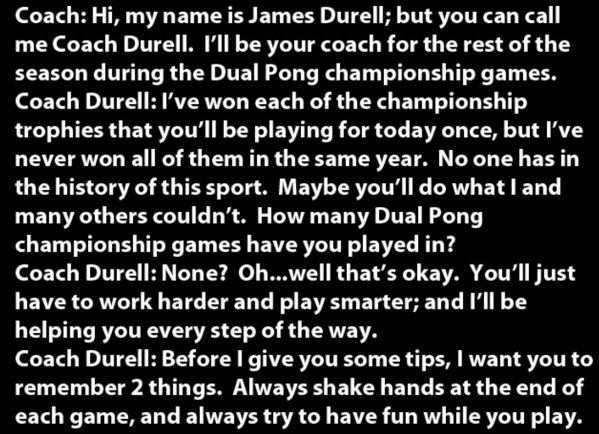 So, how is it?
Well … it's fun. It's not perfect. But it's way more fun that I would expect Pong to be.
The collision detection seems to get a little sketchy at high speed, particularly with how the balls interact; I want the balls to bounce off of each other a bit more than they do, or at the very least not occupy the same space so easily. I wouldn't mind a little more variability in the angle of the ball as it comes off the paddles; it'll either come out at a 45-degree angle one way or the other or straight out. The AI is not bright; in the four-way Pong Brawl, when I started reversing the angle on my return shots, the AI was fucking BAFFLED.
But the goal here is to turn Pong — fuckin' PONG — into a game of depth and skill, and … yeah. I think it does. Make the right return shot, and your opponent is BONED. The permanent multi-ball play does add a fun twist. I got bored with the AI kinda quickly, but this feels like the kinda think I woulda had a BLAST playing back in the day with the other guys living in my dorm.
There's room for improvement. But you can seriously get into this motherfucker.
If you're looking for a fun retro same-screen multi-player experience, I definitely recommend giving this one a look.
So, how far back into video gaming's history are we going for this next one?
Page 42, Game 26: Combed Clap of Thunder by emosludge
"Comic collection exploring human emotion and isolation."
Ah, jumping "games" entirely and hitting up the comics. So we're going WAY the hell back.